H.H. Sheikh Hamdan bin Zayed Al Nahyan, Ruler's Representative in Al Dhafra Region, has stressed the keenness of President His Highness Sheikh Mohamed bin Zayed Al Nahyan, to support farmers and provide all forms of support to the agricultural sector.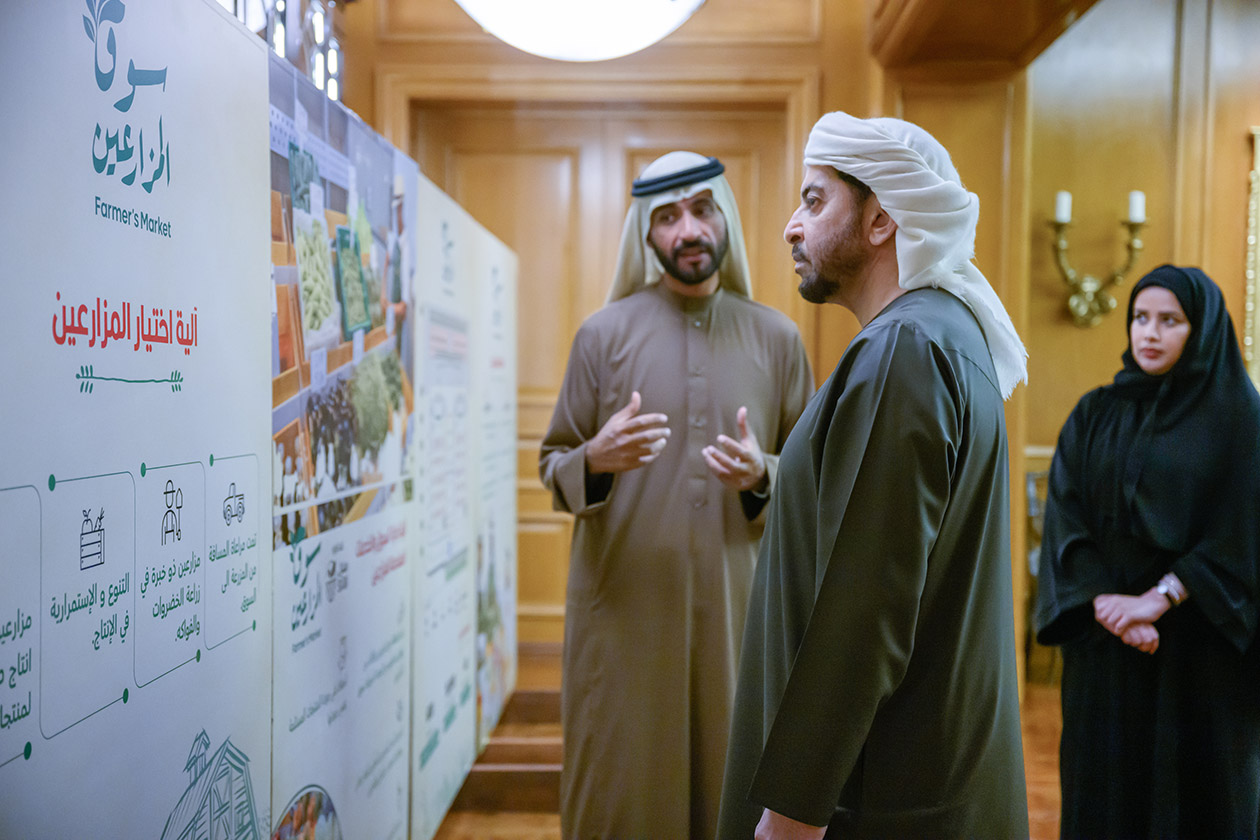 On this score, Sheikh Hamdan has hailed the efforts and initiatives of the Abu Dhabi Agriculture and Food Safety Authority (ADAFSA) to achieve the sustainability of the agricultural sector and ensure the conservation of natural resources. He also commended ADAFSA's services to farmers and livestock breeders and its efforts to motivate them to apply the best agricultural practices, in addition to its initiatives to empower farmers and augment economic returns.
This came during a meeting at Al Nakheel Palace in Abu Dhabi with Saeed Al Bahri Al Ameri, ADAFSA Director General.
The meeting was attended by Nasser Mohammed Al-Mansouri, Undersecretary of the Office of the Ruler's Representative in Al Dhafra Region, Mohammed Ali Al-Sheddi Al-Mansouri, Director General of Al Dhafrah Region Municipality, and Ahmed Matter Al Dhaheri, Director of the Office of the Ruler's Representative in Al Dhafrah as well as several local officials.
During the meeting, Sheikh Hamdan was briefed about ADAFSA's initiatives and projects implemented in Al Dhafra Region, including the project to develop and modernise the agricultural sector in Delma Island and the establishment of a state-of-the-art veterinary hospital to serve livestock breeders in the Al Dhafrah Region.
Sheikh Hamdan was also briefed on the Farmers' Souq (Market) initiative run by Silal Co. in Al Wathba region, which he described as a model for initiatives that achieve economic and social development goals on account of its contribution to empowering farmers and creating local produce marketing outlets, in addition to reviving internal trade, developing agriculture, and supporting food security.
Sheikh Hamdan was also informed about future trends to diversify agricultural production, strengthen efficient partnership with the private sector to ensure food security and strengthen supply chain efficiency. He was also updated on the efficient partnership system established by ADAFSA with the UAE private sector, where ADAFSA strives to benefit from the global expertise available to the private sector and food and fodder producers in enhancing the supply chain and enabling sustainable food production.
For his part, Saeed Al Bahri Al Ameri, ADAFSA DG, expressed his sincere thanks and appreciation to His Highness Sheikh Mohammed bin Zayed Al Nahyan and H.H. Sheikh Hamdan for supporting sustainable development efforts.
He stressed that all ADAFSA's efforts to develop and sustain the agricultural sector in the Abu Dhabi Emirate are the result of the close follow-up of H.H. Sheikh Mansour bin Zayed Al Nahyan, Deputy Prime Minister, Minister of the Presidential Court, Chairman of the Board of Directors of ADAFSA.